If you're trying to extend your reach, recognition, become a socially connected photographer or make income as a photographer, then there are a multitude of things to keep up with – clients, marketing, websites, social media, editors, competition – the list goes on (and that's before you've even started to worry about what you got into the game for – great photography!) What's worse is that various studies have shown that these things are almost necessary to get ahead in such a competitive field.
And when you start actually getting down to the business of shooting, it seems that technology has a jump on you again. Backups, copyright, post-production software – every month there is something new and you can't even know what's worthwhile without testing it and potentially wasting even more time.
At Light Stalking, we go through a lot of this!
Three years ago, we were a one-person operation out of a lounge-room and now we have a stable of photographers writing for us, a thriving community and we have been mentioned on sites everywhere from National Geographic, through to Digital Photo Magazine, Adobe, Discover Magazine and even Scott Kelby (editor of Layers Magazine) gave us a plug! Nikon got in touch asking us to help judge their "I am Nikon" competition and we're even being referenced in photography books!
Just some of the folks who have referenced Light Stalking:
In the meantime we got over 394,000 Twitter followers, over 63,900 Facebook fans and over 75,700 newsletter subscribers!
We're even a top 10 influencer in photography in the world according to Klout! – Check us out in the list with folks like Chase Jarvis, David Hobby and the famous Magnum Photo agency!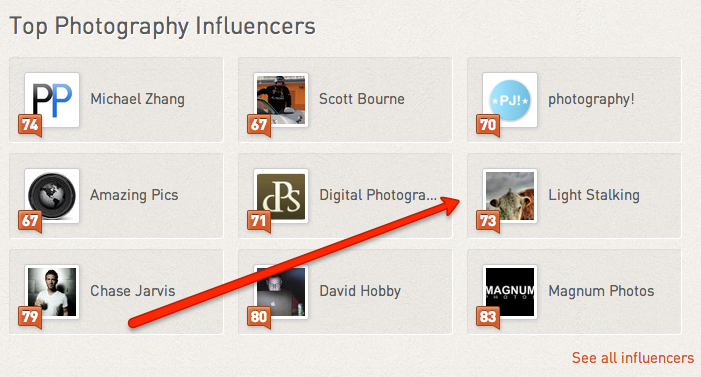 It's been a wild ride and we have learned a lot.
We have grown this business by keeping things very simple. Light Stalking revolves around the core of photography and we understand that if we're not working on that, then we're not really doing what we love. The same thing goes for any photographer, but as we see every day, a lot of folks have real trouble with this, their business suffers and they get side-tracked.
That is why we decided to develop "First Lighters" – a newsletter for photographers that has three core concepts:
Getting Connected – As we have talked about before, being a socially connected photographer increases your chances of success dramatically. We go into what that means and how to do it. With your peers. With your fans.
Creating Beautiful Photography – Shooting is at the core of what we do. Anything that allows photographers to produce beautiful photographic projects will be of interest to us.
Keeping it All Simple – We love things that are simple, save us time, save us money and allow us to concentrate on actual photography.
We'll be looking at everything from photography software, solutions to business ideas that follow these simple tenets as well as detailing strategies for photographers to get organised, get an audience and get back to the core of what's important – taking great photographs.
Now this isn't for everyone. If you're into photography to share with your friends and family and are content with how you do that, then that is great – we will continue to give you heaps of free and easy tips here on Light Stalking, but this newsletter probably isn't for you. If you're not currently making money from your photography (or at least very close to it) then this is almost certainly not for you.
On the other hand, if you're trying to build your audience, portfolio, skills and maybe even growing into paid gigs or if you're already there, then this will be something you want to take a look at. The goal of First Lighters is to help you build your audience without taking a lot of time or money. We'll send out a newsletter each week with ideas that you will be able to take action on.
Grab a free trial for a week and then Phocus is a monthly payment of $19.95
Just click the button below to get started.
Important: After you have subscribed, check your email for the link to the newsletters and archives. Hit us up on email if you're having any problems!
Cheers
Rob Wood
Editor
Light Stalking